Saturn
The Saturn is specially designed for players who want a more traditional sound and feel, but prefer a modern instrument with improved balance, playability and ergonomics. Designed to produce a solid low B-string and an even tone across the neck, it does not have the ghost notes and wolf notes vintage instruments are known for. The Saturn is available with traditional passive or modern active electronics.
Standard features
Body
Your choice of woods for the body
Wooden control cavity cover matching the neck woods
Hand-carved body and X-ergo shaping
Neck
5-piece neck constructed from our own straight-grained, aged neck blanks
2-way, high-quality truss rod
Bolt-on neck joint
Volute-reinforced angled headstock
Matching headstock and body facings
Your choice from multiple scale length and bridge spacing combinations
24 frets
Your choice of fretted or fretless
Pickups & Hardware
Your choice of pickups and electronics
Hipshot A-style, 3-way-adjustable bridge
Hipshot Ultralite Tuning Machines
Schaller Security Locks
Black hardware
Catalyzed oil finish
Hard case included
Warranty, tools and certificate included
Additional information

Fretless
This model is available in a fretless version without upcharge

Lightweight
This model is available with lightweight woods resulting in a lightweight bass that can if desired weigh under 3,5kg (7,7lbs)
Pricelist
Click here to go to the price list.
Sound samples
Click here to go to the sound samples page.
Ergonomics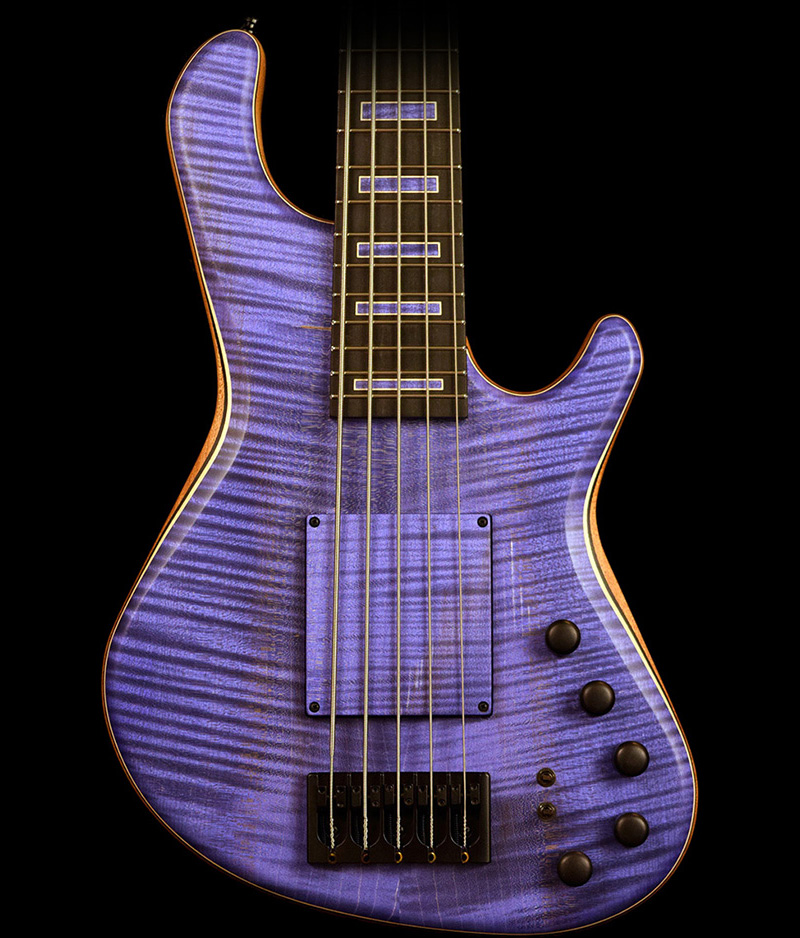 Ergonomics
Although inspired by vintage instruments, the Saturn is very much a modern design. If you are accustomed to playing vintage instruments, the Saturn will feel very familiar. However, the improved ergonomics will allow you to play faster with less effort, and play for longer without fatigue.
The body is designed for perfect balance, maximum support, and ease and freedom of movement, whether you are playing in a seated or standing position. It features our X-ergo shaping, an ergonomic carved back that fits perfectly to your body and enhances stability and balance. The Saturn stays in your favorite playing position, even if you let go of it with both hands, and the X-ergo shaping brings the strings and your left hand closer to your body for increased comfort.
The body is thinner than that of many other basses, and is rounded over with a large, 15mm radius. This feels comfortable and eliminates the need for an arm contour, but at the same time helps to reduce the overall weight of the bass and improve its ergonomics. Moreover, our strap buttons are not placed in the conventional position, but in a position that supports the bass better and distributes the weight. By bringing the nut closer to your body, the Halo design makes a 35" scale feel more like a 33" scale.
Bolt-on neck joint & double cut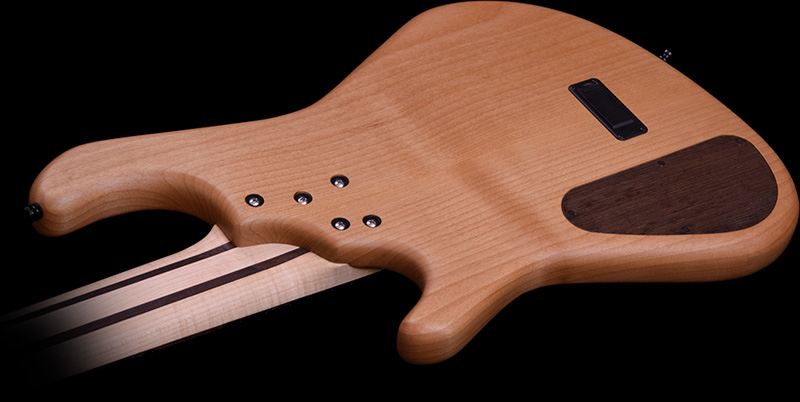 Bolt-on neck joint & double cut
The Saturn has a bolt-on neck. Attached with five strategically placed screws, it is tight-fitting and has improved strength and stability. The heel is comfortably shaped, giving the player easy access all the way up to the top fret.
A bolt-on construction produces punchier notes, whilst the double-cut body gives a more familiar feel and benefits players who like to play with their left thumb wrapped around the neck.
Pickups & Electronics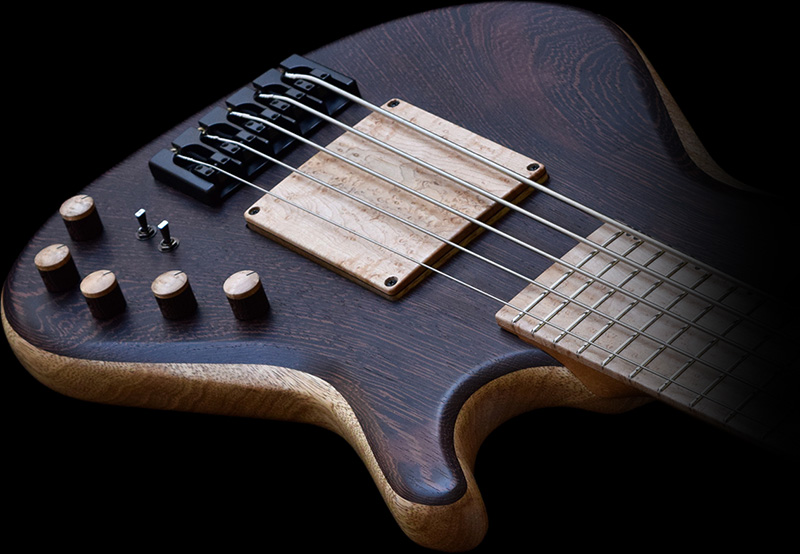 Pickups & Electronics
For players who are seeking for a more vintage sound, the Saturn is also available with our Jazz pickups. In combination with the more traditional woods and our stable laminated neck construction, these pickups produce a sound that strikes the perfect balance between modern and vintage – a sound many players are looking for.
For players who are looking for a more modern bass, we also offer our modern pickups, like the Haeussel BassBars, which are available with custom wooden pickup covers as standard, or our RampbarXL – a large, radiused wooden cover that also functions as an integrated ramp. The Haeussel BassBars are also individually switchable by means of three-way toggle switches, providing nine different sound combinations.
Wooden Pickguard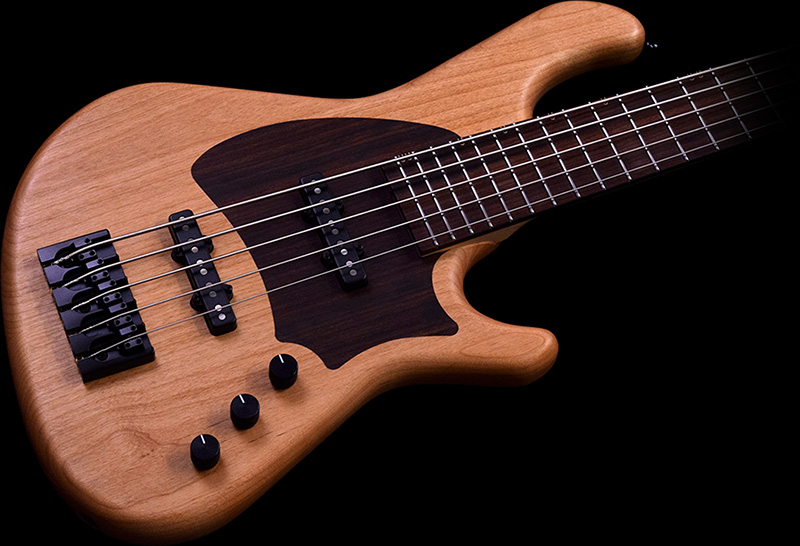 Wooden Pickguard
A popular option we offer with the Saturn is the wooden pickguard, which is made from real wood laminates. If you opt for a pickguard, you will be able to choose from a wide variety of wood species.
Matching the pickguard wood with the fingerboard or pickup woods will give your bass a striking appearance. In addition to being aesthetically pleasing, the pickguard brings the strings closer to the body, which is an advantage for players who are used to the specific distance between a string and the pickguard.
Customization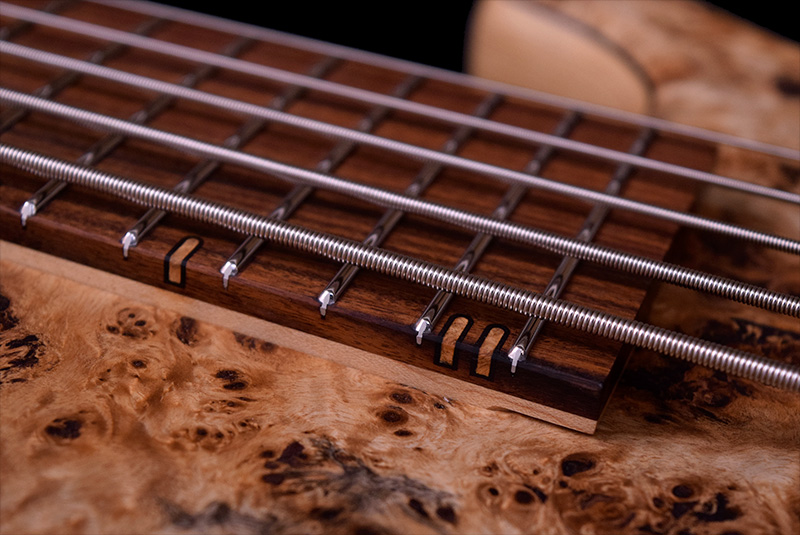 Customization
We make custom basses for and with our customers, and each bass is designed to meet the player's specific needs. Using our extensive option list, you can personalize your Saturn to your preferred specifications. We offer a wide range of neck, fingerboard and body woods to allow you to achieve your desired sound, and a variety of scale lengths and string spacings to match your technique. Details like wooden knobs, wooden pickup covers and inlays can be tailored to match your personal style.
Feel free to discuss your wishes with us. We would be happy to guide you through the option list, answer any questions you may have, and advise you on the possible options.