Halo
The Halo has become our most popular model, and rightfully so. Designed for the professional bassist, the Halo offers optimal ergonomics, playability and tone. Its responsiveness is second to none, and enables the player to express themself without compromise. The ergonomics of the Halo allow the player to play faster with less effort, and play for longer without fatigue.
Standard features
Body
Your choice of woods for the body
Wooden control cavity cover matching the neck woods
Hand-carved body and X-ergo shaping
Neck
5-piece neck constructed from our own straight-grained, aged neck blanks
2-way, high-quality truss rod
Set-in neck
Volute-reinforced angled headstock
Matching headstock and body facings
Your choice from multiple scale length and bridge spacing combinations
24 frets
Your choice of fretted or fretless
Pickups & Hardware
Your choice of pickups
Hipshot A-style, 3-way-adjustable bridge
Hipshot Ultralite Tuning Machines
Schaller Security Locks
Black hardware
Catalyzed oil finish
Hard case included
Warranty, tools and certificate included
Additional information
Pricelist
Click here to go to the price list.
Sound samples
Click here to go to the sound samples page.
Ergonomic design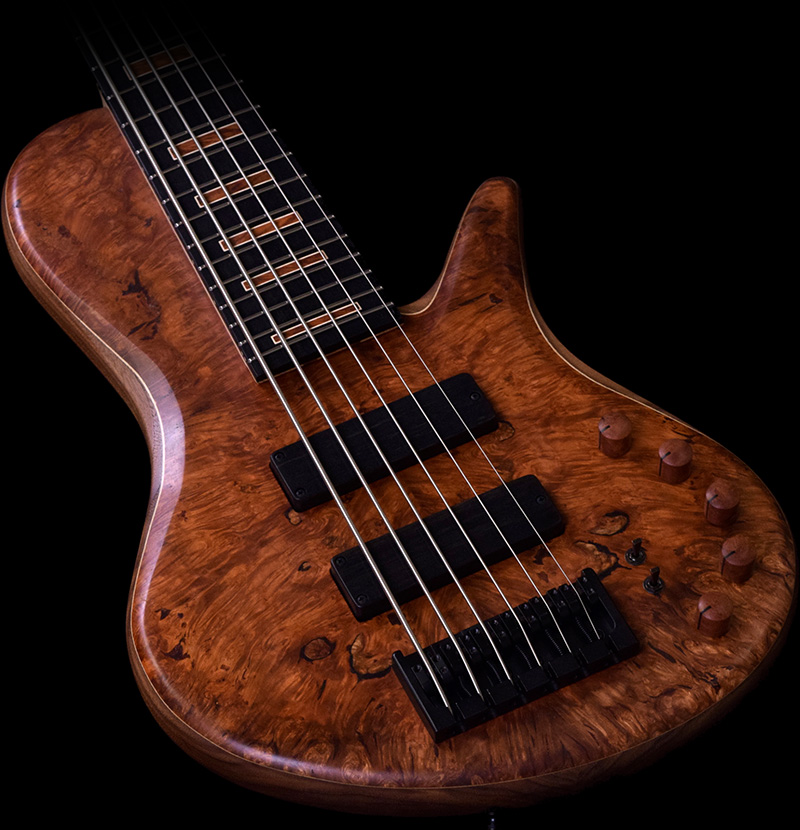 Ergonomic design
The Halo has a medium-sized, asymmetrical body designed for perfect balance, maximum support, and ease and freedom of movement, whether you are playing in a seated or standing position. It features our X-ergo shaping, an ergonomic carved back that fits perfectly to your body and enhances stability and balance. The Halo stays in your favorite playing position, even if you let go of it with both hands, and the X-ergo shaping brings the strings and your left hand closer to your body for increased comfort.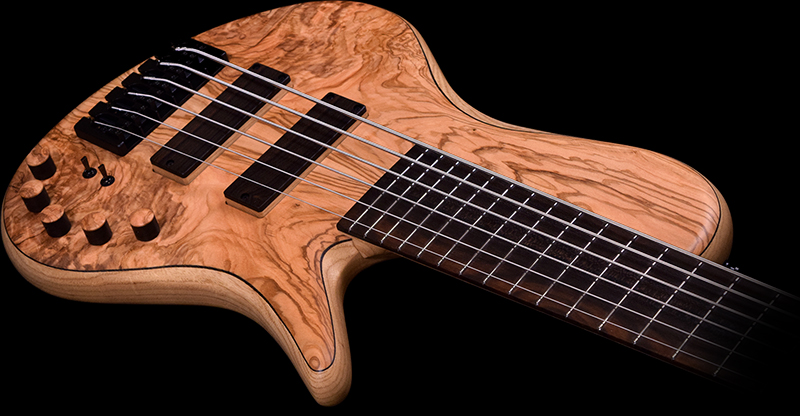 The Halo's body is thinner than that of many other basses, and is rounded over with a large, 15mm radius. This feels comfortable and eliminates the need for an arm contour, but at the same time helps to reduce the overall weight of the bass and improve its ergonomics. Moreover, our strap buttons are not placed in the conventional position, but in a position that supports the bass better and distributes the weight. By bringing the nut closer to your body, the Halo design makes a 35" scale feel more like a 33" scale.
These features enable you to play faster with less effort, allowing you to play for longer without fatigue.
Singlecut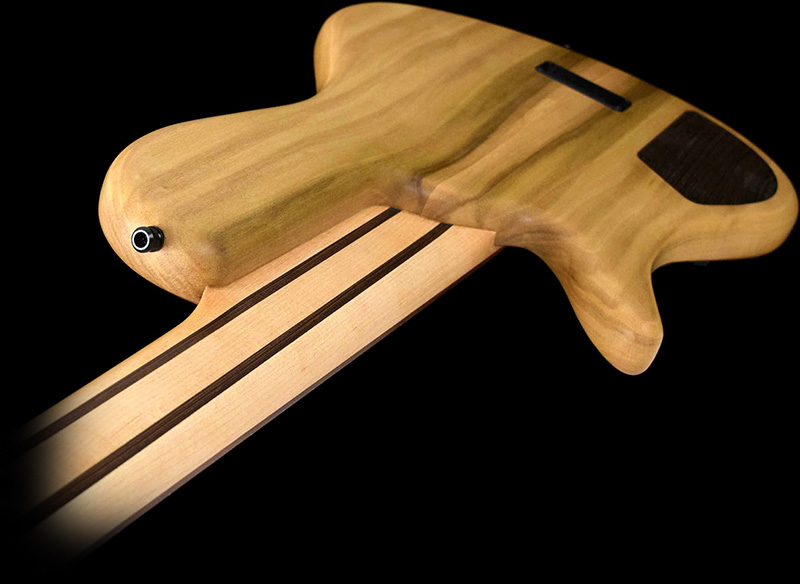 Singlecut
The singlecut design adds stiffness to the neck, enabling us to build basses with very stiff, fast-responding necks without having to use additional stiffening materials, like graphite. When a singlecut body is used, the instrument has a shorter neck that can move and vibrate with the string. The different dampening patterns of the neck result in a quicker and more direct sound and improved articulation with piano-like voicing. This makes a singlecut design perfect for fusion, jazz and chordal playing, but also for progressive metal.
Our unique, heel-less singlecut neck joint is designed for pure comfort, as it means that the neck does not get thicker around the body. When playing around the 24th fret, you will not notice you are playing a singlecut bass, because there is no heel or thick, carved-out neck-to-body joint.
Hollow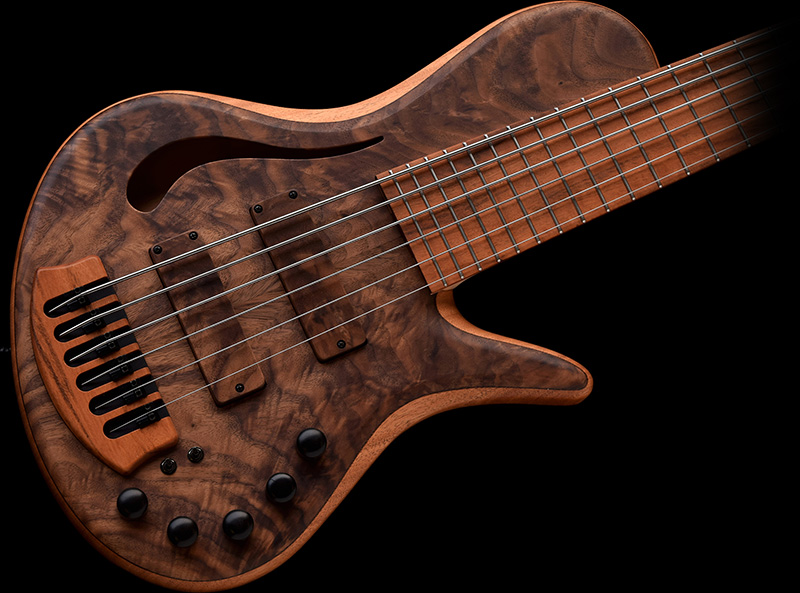 Hollow
The Halo is also available with a hollow body. Uniquely combined with the X-ergo carved back, the body is completely hollow, very similar to that of an acoustic or steel-string guitar. However, instead of having traditionally bent sides, the body is cut out of a solid piece of wood, with sides measuring 5/8" (15mm) in thickness. This enables us to round the edges of the body for a much more comfortable feel.
Also, the top is free to resonate and contribute to the acoustic sound of the bass. In this respect, the design is again very similar to that of an acoustic or steel-string guitar. The bridge is only partially supported by the body wood and, in this way, absorbs the vibrations from the string and transfers them through the body.
This hollow body construction with the resonating top creates a richer more complex tone. When equipped with a wooden bridge, the bass produces a unique acoustic timbre with long-sustaining notes.
Customization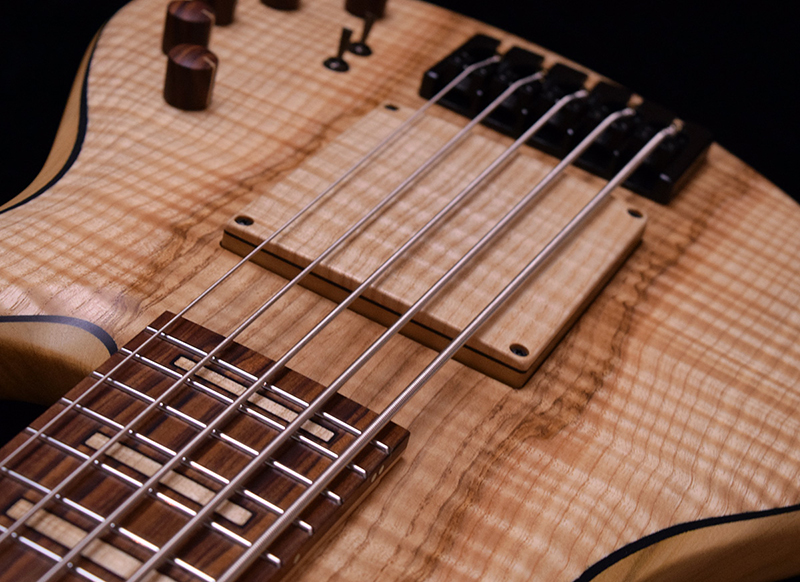 Customization
We make custom basses for and with our customers, and each bass is designed to meet the player's specific needs. Using our extensive option list, you can personalize your Halo to your preferred specifications. We offer a wide range of neck, fingerboard and body woods to allow you to achieve your desired sound, and a variety of scale lengths and string spacings to match your technique. Details like wooden knobs, wooden pickup covers and inlays can be tailored to match your personal style.
Feel free to discuss your wishes with us. We would be happy to guide you through the option list, answer any questions you may have, and advise you on the possible options.