Jupiter
The Jupiter is especially popular among players who favor a more compact, very lightweight instrument with an acoustic timbre. The Jupiter is designed to bridge the considerable tonal gap between an upright bass and a solid-bodied electric bass. It offers the best of both worlds by combining a warm, mellow, woody acoustic tone of a hollow body with long sustaining clear notes and an even tone throughout the fingerboard of a solid body.
Standard features
Body
Your choice of woods for the body
Your choice of the top and back woods
Wooden control cavity cover matching the neck woods
Full hollow body design
Neck
5-piece neck constructed from our own straight-grained, aged neck blanks
2-way, high-quality truss rod
Set-in neck
Volute-reinforced angled headstock
Matching headstock and body facings
Your choice from multiple scale length and bridge spacing combinations
24 frets
Your choice of fretted or fretless
Pickups & Hardware
Your choice of pickups and electronics
Hipshot A-style, 3-way-adjustable bridge
Hipshot Ultralite Tuning Machines
Schaller Security Locks
Black hardware
Catalyzed oil finish
Hard case included
Warranty, tools and certificate included
Additional information
Pricelist
Click here to go to the price list.
Sound samples
Click here to go to the sound samples page.
Hollow body design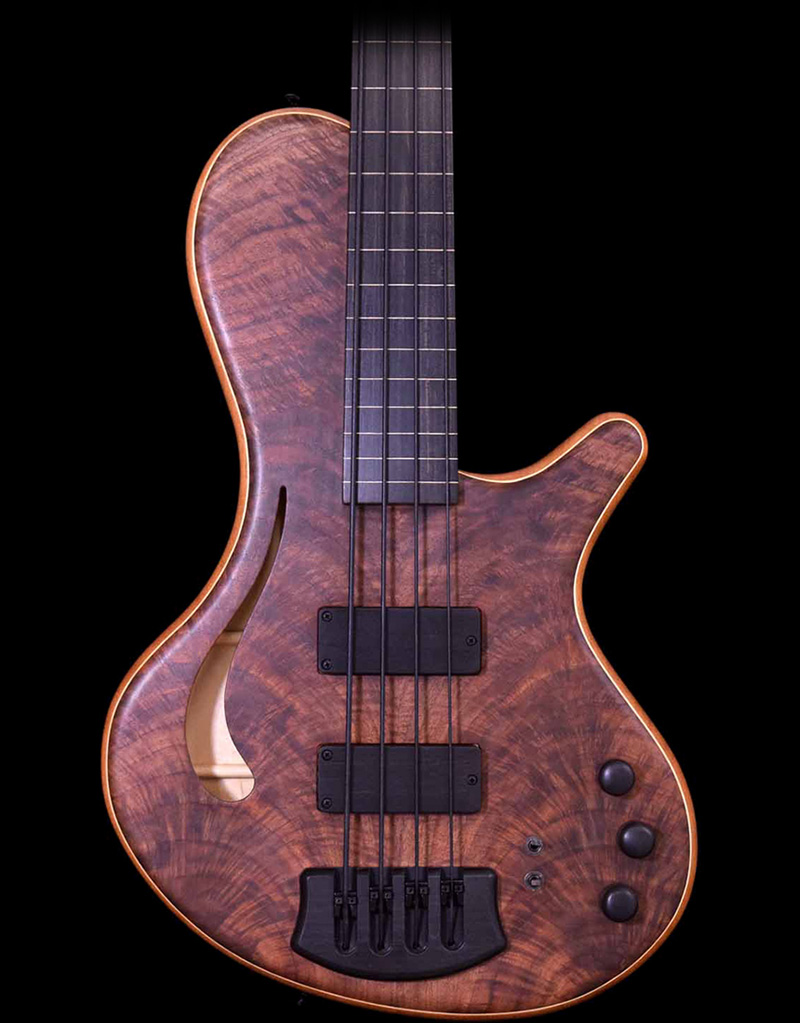 Hollow body design
The body of a Jupiter is completely hollow, very similar to that of an acoustic or steel-string guitar. However, instead of having traditionally bent sides, the body is cut out of a solid piece of wood, with sides measuring 5/8" (15mm) in thickness. This enables us to round the edges of the body for a much more comfortable feel.
The top and back are free to resonate, and are designed to minimize feedback and maximize the acoustic sound when the bass is amplified, making this the perfect electric bass with an acoustic vibe. In this respect, the design is again very similar to that of an acoustic or steel-string guitar.
The bridge is only partially supported by the body wood and, in this way, absorbs the vibrations from the string and transfers them to the top and back. When equipped with a wooden bridge, the bass produces a unique, upright-like acoustic sound with long-sustaining notes.
Thanks to its compact body shape, it can be made very lightweight if required, but will still balance well when strapped on. For instance, we can build a five-string solid-body Jupiter with a weight of less than 3.2kg (7lbs), without having to compromise on tone, attack or sustain.
Singlecut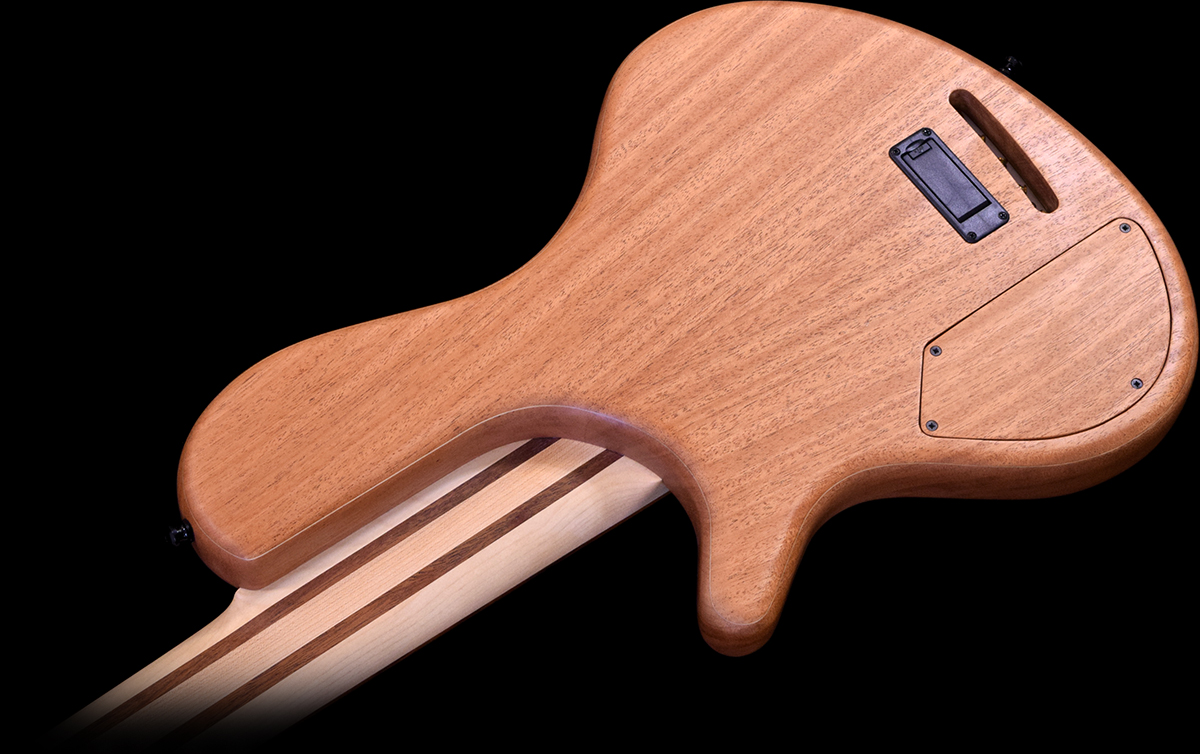 Singlecut
The singlecut design adds stiffness to the neck, enabling us to build basses with very stiff, fast-responding necks without having to use additional stiffening materials, like graphite.
When a singlecut body is used, the instrument has a shorter neck that can move and vibrate with the string. The different dampening patterns of the neck result in a quicker and more direct sound and improved articulation with piano-like voicing. Making it a perfect combination with the free resonating top and back which offer increased complexity and added bloom to the tone.
Our unique, heel-less singlecut neck joint is designed for pure comfort, as it means that the neck does not get thicker around the body. When playing around the 24th fret, you will not notice you are playing a singlecut bass, because there is no heel or thick, carved-out neck-to-body joint.
Pickups & Electronics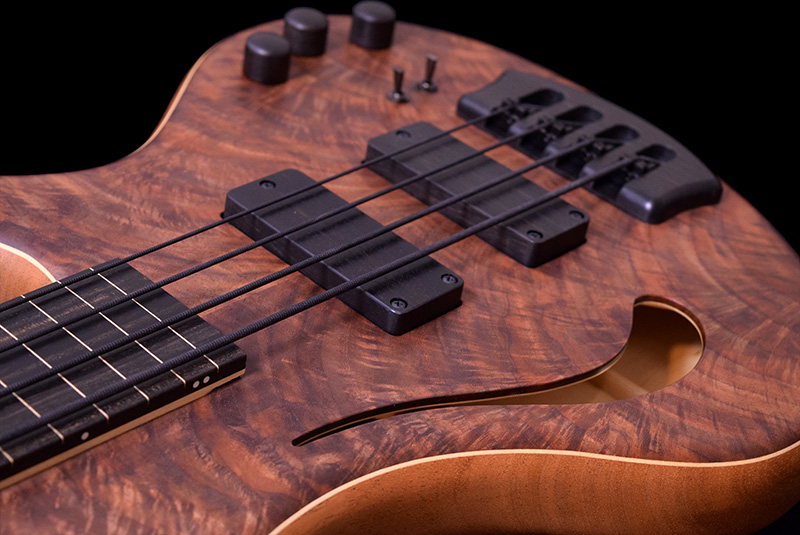 Pickups & Electronics
The unique construction of the body offers an acoustic timbre while allowing the use of conventional pick-ups (there is no need for a piezo undersaddle pickup). This makes the Jupiter very versatile and not sensitive to different string tensions of different types of strings and it also eliminates problems with different output from string to string. This body design is also not sensitive to feedback problems often associated with hollow body basses.
Our versatile BassBars, switchable in three different sounds are, the perfect match for the Jupiter but we also offer a variety of other configurations. These include our Jazz pick-ups and our Rampbar and RampbarXL – a large, radiused wooden cover housing a pair of BassBars, which also functions as an integrated ramp.
We love the Jupiter as a completely passive bass but it can be equipped with an active preamp for more tonal options.
Bridge options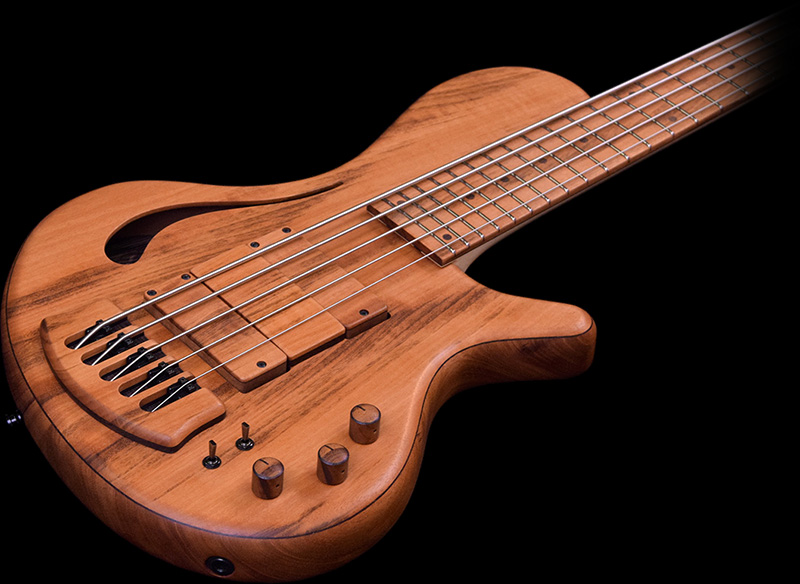 Bridge options
The type of bridge has a bigger influence on the sound of a hollow body design compared to a solid body design. Our wooden bridges are glued directly to the top in a traditional manner. In this way, the largest part of the bridge, which includes the saddle, is not supported by the body, leaving it free to transfer the string energy into the top wood.
Passing through the body, top and bridge, the strings place the optimum amount of pressure on the saddle. This construction maximizes the absorption of the string vibrations, creating a unique, upright-like acoustic sound with long-sustaining notes.
The solid bridge and saddle are both made from a solid piece of wood. You can choose the bridge made of wood that matches the fingerboard wood or made from ebony. Alternatively, you can opt for the adjustable bridge, which has adjustable brass and steel saddles.