Anthony Wellington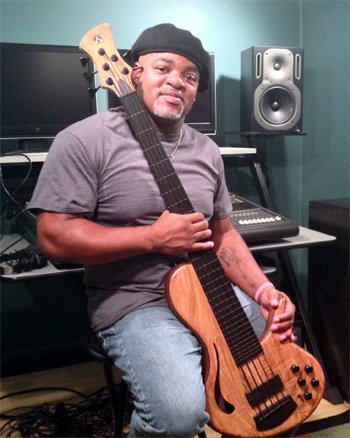 We are proud to have Anthony Wellington in our Adamovic bass Family.
Anthony Wellington is one of the most sought after bass teachers in the world today and long time holder of the coveted "2nd bass" position in the Victor Wooten Band. He's been featured in many publications including Bass Player Magazine, and in 2009, readers awarded his feature as "best non-cover article of the year". He has a uniquely thorough teaching style which combines one-of-a-kind mathematical analysis with abstract concepts and "legwork".
When not teaching 80-100 students a week at his lesson headquarters "Bassology" in Waldorf, MD, he teaches at "Inspire Music" in York, PA once a month. He has expanded his teaching worldwide and conducts private lessons via Skype. Anthony also owns and operates AntFarm Recording Studios in Calvert County, MD (see picture).
For more information about Anthony:
Bassology
Anthony plays an Eclipse fretless 5-string hollow body prototype for a new concept bass (to be introduced soon). After spending a while with his bass Anthony sent us an e-mail with this quote:
"My Adamovic Ecllipse fretless is an amazing bass. It plays great and it looks great. And it's the bass that my friends and students ask to borrow the most!"